Glenn's Dyno results below
This is an 883C/1250 conversion. Components used are:
Stock 883 Cams
Nallin 1250cc Millenium Nikasil Cylinders
Hurricane 10.5:1 Pistons
Total Seal Rings
Thunderstorm heads (unmodified)
SE 6800 RPM ignition module

Later added:
Thunderheader
Doherty PowerPac Air Cleaner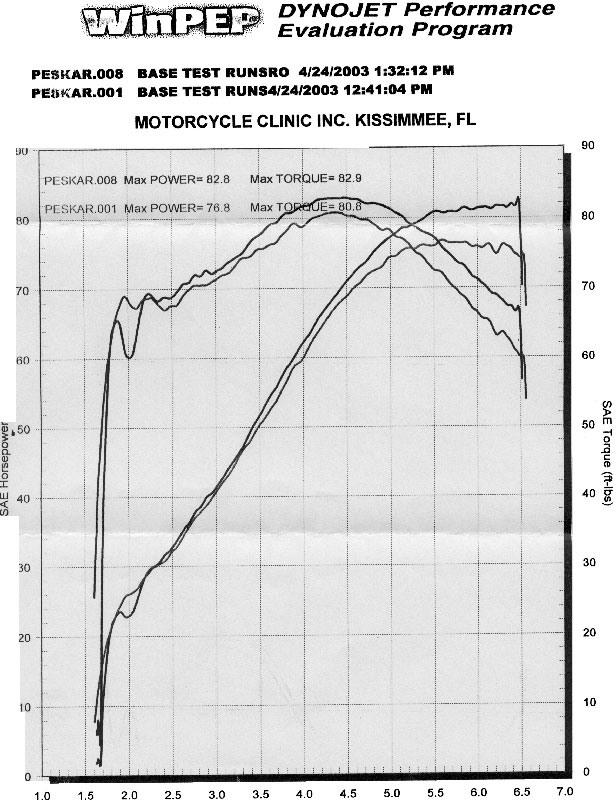 Initial Dyno results (not shown) had 68.6 HP and 73 ft-lbs Torque.
Run 1 is after replacing the stock exhaust with a Thunderheader and the stock air cleaner with a Doherty PowerPac. No tuning was done for Run 1 and shows an improvement of 8.2 HP and 7.3 ft-lbs of torque.
Run 8 is after jetting and timing adjustments per dyno tune, resulting in an increase of 6 HP and 2.1 ft-lbs torque. Total increase of 14.2 HP and 9.4 ft-lbs torque over initial setup.
So one can see the difference a good Air Cleaner and exhuast will make over stock, and the difference proper tuning makes!
Final Carb tuning for stock CV-40
Pilot #45
Main #180
Needle stock

Home