This run is at 3600 miles. The big change is stock header and SE-II slip-ons were replaced with Rich's Thunderheader.
This chart shows UNCorrected results from the 750 mile dyno and now. Only the Thunderheader was added. We also had to swap the main jet from the stock #195 to a #205. The Corrected results are shown in Run28SAE.
I screwed up as I wanted the chart to show run 28 compared to run 16. But still you can compare the two and see the increase. Also I didn't get the big dip I expected in the 2500 RPM range as appears to be common with 2 into 1 systems exhausts. Not sure if after a cam swap or head work if that will show up.
Funny what finally cause it to show up. Replacing the #42 slow jet with a #45 slow jet. When I finally had the correct jet in there with the correct Air/Fuel ratio, I saw the expected dip.
See Rejet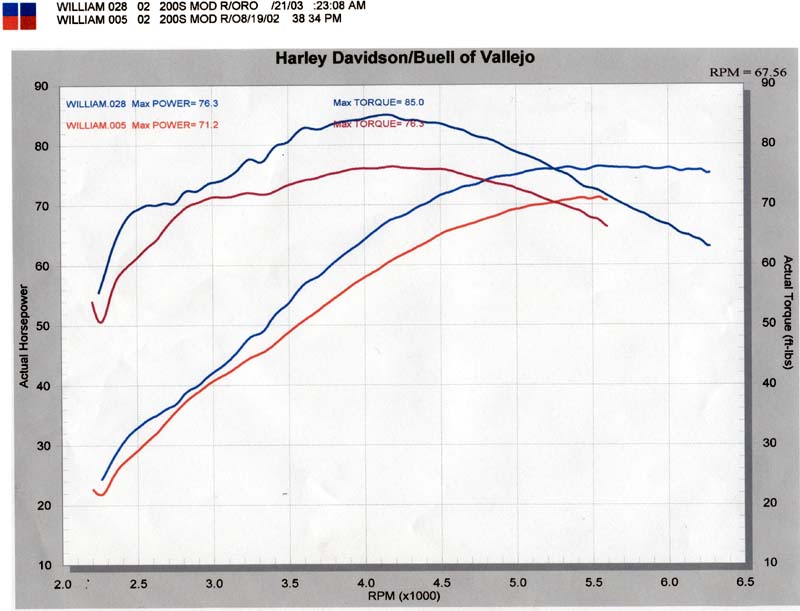 Run028.jpg
Again these are the UNCorrected results. See Run28SAE for the corrected results.
Run 004
Run 016
Run 028
Run 028 SAE
DynoOperator
DifferentDay
Rejet.html